Testimonials of Satisfied Clients Who Used Our New York Limo Service
Our Clients Enjoy the Professional Service with Long Island Limo
Five Towns Limousine prides itself on offering professional and courteous curbside New York Limo service throughout the NYC metropolitan area. We want our Long Island limo transportation to be the best experience and look forward to serving all your limousine Long Island needs in the future.
Read these testimonials from some of our satisfied customers:
Just wanted to let you know that we are having a wonderful time;) just the two of us in a big 'ol stretch limo! Leroy is a great guy!
Thank u! We will recommend you to out friends. Our favorite winery, by far, is Pindar.
Jenny Gillis, Lake Orion, MI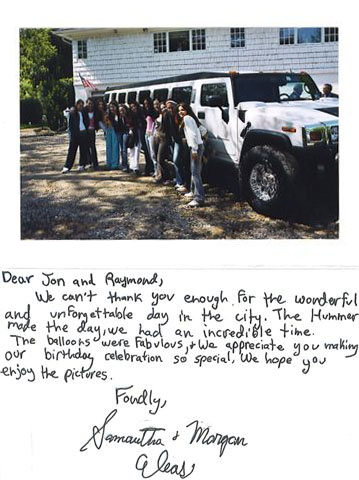 "I just want to say thanks so much for a great nite!! The limo was amazing, people were looking at us everywhere; we all had such a good time, and Nathaniel was GREAT, the BEST limo driver I ever had. (He) was a pleasure to deal with and a safe driver. — I have had some real bad ones in the past. I will definitely recommend your company to everyone and would love to use that PINK LIMO again real soon! LOL, with Nathaniel driving of course! Thanks again."
Samara, NY
"WHAT AN AMAZING DAY! Our daughter's friends are still talking about her Sweet Sixteen party bus ride last year!  Hands down, the teens all said it was the best time they had ever had – and that is quite a statement for teen to make.  But, "party bus" is such an understatement!  It was the biggest, cleanest, most spectacular vehicle we had ever seen!  Once you step inside, you won't want to leave.  We expected to be pleased, and got more than we could ever have hoped for.  Our "baby girl" deserves the best; and Five Towns Limo gave it to her!  God bless you John Erbis."
Curtis and Karen Barrow, Elmont, NY
"We have rented numerous buses over the years and no service has compared to this one. While they broke down, could not read a map, overcharged us or were otherwise sketchy, John was on the ball, professional, patient and HELPFUL! He went above and beyond to make the evening a success. Incredible!"
Charlotte Rademaekers, of the award-winning Tails of Glory Mermaids
"Thank you so much for making my friend's birthday a memorable experience. John and Ray are the best. I will definitely use this limo company again in the very near future."
Susan Caicedo, Forest Hills, NY
"The driver was professional and extremely courteous. I highly recommend this company."
Barbara A. Ippolito, Viera, FL (CEO of Pilates Matworks)
"I couldn't have been more satisfied."
William Norwood, Atlanta, GA (Pope, McGlamry, Morrison & Norwood, LLP)
"Five Towns Limo has, by far, THE BEST PRICE/RATES I could find. Other limo companies were asking 2-3 times MORE! Beautiful stretch limos & relaxing transportation to & from JFK Airport. John also accommodated us with requested beverages at no additional charge. I highly recommend Five Towns Limo and will definitely use them again."
Luis Valdez, Granada Hills, CA
"John was great! On time, pleasant, and went out of his way to make our experience special. He even got a special bottle of champagne, upon my request, as it was our anniversary. HIGHLY RECOMMENDED!"
Scott Mandell, Charlottesville, VA
"John and his limo are by far the best. He goes that extra mile to make the difference. He makes a special event even more special. We look forward to using his services again and again."
Manny Henzel, Cedarhurst, NY
"John runs a first class operation. We've tried many other services over the years, but Five Towns is by far the best. He was on time each way and his limo was pristine. He went the extra mile with our beverage requests, plus he has a great personality. He's a keeper!"
Mark Hild, CA
"Five Towns Limo came through with a rating of TRIPLE A ++++++! Despite the traffic, John got us there in plenty of time to enjoy the festivities. The limo was simply beautiful and the return trip was also delightful. I recommend Five Towns highly and would definitely use their service again."
Ruth & Russ McFaul, CA
Thank you John for providing the most awesome vehicle for our post mermaid parade touring fun. You were SO HELPFUL and considerate and patient. We have rented 5 different buses before and none have compared to your service: They broke down, could not read maps, and were otherwise useless. They certainly did not go above and beyond like you did -pre-stocking, helping to coordinate etc. BRAVO! I would whole-heartedly recommend you to anyone.
We've been steady Five Towns customers for the past five years and would not think of going anywhere else. It's truly the best transportation service you'll find! John Erbis is a true professional, provides so much personal attention and the best-in-class service, and he's one of the most honest, trustworthy and delightful people to be around. LOOK NO FURTHER, Five Towns is your solution to any of your transportation needs! ~Wiley Mathews & Laura R. NY, NY
From beginning to end, Five Towns Limo of Cedarhurst/Inwood was there for Alexandria Chinky Eyed Thomas Sweet Sixteen celebration last Friday, March 16,2012.  You will not find better service than this right in your own backyard. The kids are blowing up the internet with thumbs-up review of the limo and party bus.